Taiga Motors Corporation, an electric off-road vehicle manufacturer, reported its financial and operating results for the second quarter ending June 30, 2023, with sales $4.1 million from 145 vehicles during the Q2.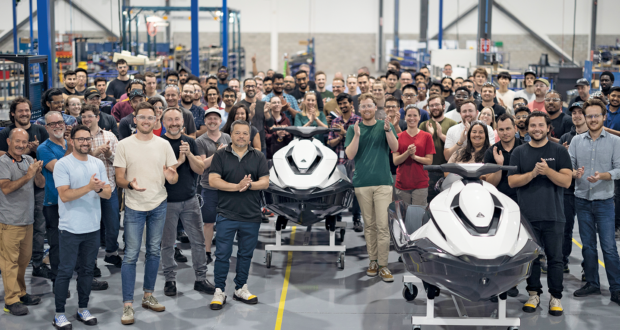 The company reported revenue growth of 137% compared to the preceding first quarter of 2023. Taiga says its production has seen a strong ramp-up with its 2023 Nomad snowmobile, which was re-engineered for greater manufacturability, and in total, Taiga produced 178 snowmobiles and personal watercraft (Orca Carbon) during Q2.
Inventory increased to $24.9 million as at June 30, 2023, compared to $20.8 million as at December 31, 2022. The increase in inventory is largely associated with parts purchased for the upcoming Orca Performance as well as higher levels of finished goods.
During the quarter, Taiga continued to expand its Taiga Service Provider (TSP) network and as of June 30, 2023, Taiga's TSP network included 20 locations to provide deliveries and after-sales service across Canada and the United States. Taiga's TSP network now covers markets in Canada and the United States, and the company expects to continue to scale its TSP network in line with its vehicle delivery schedule in the coming months.
"The second quarter served as proof of our snowmobile platform's scalability. The 2023 Nomad was re-engineered for improved manufacturability, and we saw that yield strong throughput results in tandem with our ongoing supply chain improvements," said Sam Bruneau, CEO of Taiga. "We're now on our path to resume our high throughput production with the Orca Performance in the third quarter as we get through the limited-edition Orca Carbon. We are laser-focused on building our momentum as we ramp up rapidly."
On April 27, 2023, Taiga announced that in connection with its private placement of $40.15 million aggregate principal amount of 10% secured convertible debentures due March 31, 2028, that closed on March 24, 2023, it has raised an additional $6.6 million in gross proceeds by issuing additional convertible debentures to Northern Private Capital and Investissement Québec, with each of the investors having subscribed for $3.3 million of the additional convertible debentures. Other than the amount of the initial interest payment, the additional convertible debentures carry the same terms as the convertible debentures issued on March 24, 2023.
While the company was able to reach targeted throughput with its 2023 Nomad snowmobile, the Orca Carbon personal watercraft continued to present unique supply issues related to a single supplier. Therefore, management is now advising its production to be at the lower end of the previous guidance of 1,700-1,900 vehicles delivered in 2023. Production continues to be weighed to the second half of 2023.